Looking for ideas for christmas gifts for your college sister? Here are 60 ideas to inspire you to get the perfect gift, every time!
Are you and your sister both in college at the same time? Are you out of college but your little sister is still there? Or maybe you need a gift for a sorority sister.
Or vice versa? Whatever the answer is, getting the perfect gift for your college aged sister can be a bit more difficult – and even intimidating. College life is super different!
You need – and want – things when you're in college that you don't necessarily need or want outside of college. Plus, you feel a whole bunch of different emotions in college, especially if it's the first time you're away from home.
You miss your sister and your sister's going to miss you! You want your sister to be reminded of you and you want to be reminded of your sister.
No matter if it's for a birthday, a holiday, a "just because," an I miss you," or a graduation gift, here are 60 gift ideas that will help you pick out the best gift for your college sister.
If you're both in college, buy yourself one too so the two of you can be super cute and match!
Links in this post may be affiliate. Thank you for supporting this resource.
60 Gift Ideas For College Sister
Personalized artwork
Get a fun drawing of your sister! If she's graduating, make it graduation themed. If she's starting, get it with her on her campus. If you're both in college, get one of the two of you holding hands, ready to take on college, together.
If you don't think your sis would like a caricature of herself, get her a digital print of a saying you always said or something you know she loves. Frame it so she can hang on her wall in her dorm room!
College students need something to put their books in, right? Get her a tote bag or backpack, whichever's more her style.
Make it even more personal with her name or monogramming it!
Perfect for taking to class and making sure your sis stays hydrated…and on trend.
There are so many different colors and styles of water bottles these days so you'll be sure to find one that's a perfect match for her.
Get you and your sister matching coffee mugs or one with a quote on it that'll definitely get your sister motivated to take on the world of college.
Framed pictures
You def have a favorite picture with your sister. Frame it in a cute picture frame for her to have in her room as a thoughtful gift!
Your sister's dorm room is probably covered in pics, right?
Gift her a polaroid to take fun pics but make the gift complete by including a wall hanging display as a great way for her to show off all the polaroids.
Get one with her monogram, name, or favorite quote on it! She can use it for class or just to keep track of all her assignments and to-do's.
Is your sis a planner? Then she definitely needs a big planner. Make it extra special by getting her one with her name or initials on it.
Especially if your sister is at school far away, give them a little bit of home! Another good idea is to find a candle that smells like home or of her favorite place, like the beach.
A scrapbook
Always a good sentimental gift, this is a great gift especially if it's your sister's first year at college, to remind her of family members and home…Or if she's graduating, make her a scrapbook of her four years at school. Scrapbooks and memory books are go-to gifts for crafty sisters!
Help make your sister's desk super cute by getting her matching cute supplies for it like a gold scissor, pen holder, stapler, etc! Make sure to get them all in her favorite color or whatever color she plans on decorating her dorm in.
Get one of something your sis loves. Or make a personal one that's filled with all pics of the two of you!
Having a sister is like having a built-in best friend. If you're both going to different schools, get yourselves a sister necklace – and make sure you have a matching one!
There are so many cute sister charms for you to get your sister, and you can get your sister a matching one or a different one.
This is a special idea for 18th birthday gifts as you can get charms for the best life milestones. to come.
But seriously, who doesn't love fuzzy socks? Plus they're perfect to walk around a dorm in! If she's not a sock person, you can opt for slippers.
We're not saying to get her a phone charger, but an entire charging station where she can charge her phone, watch, and airpods at once. Sometimes the best gift ideas are truly practical!
The lighting in dorm rooms isn't always the best. Get a makeup mirror light so your sister's make-up's always on point. Then next gift-giving season you can get her a matching makeup bag!
Perfect to roll out of bed and to class on those days where there's just no time to was your hair.
The same reason as above. But also add in some scrunchies she can use when she's working out!
There's quite a few companies now that sell the lasting roses that don't die.
The perfect way to give a special gift that will not need extra attention. This is a cute little décor addition for your sister's room!
Your sis is probably planning to take her laptop to class with her, right? A laptop sleeve is essential. You can personalize it with a monogram, too!
If she already has a laptop sleeve, consider getting her a lap desk for more comfortable study sessions.
You want your sis's room to be the cutest decorated one, right? Get a cute décor pillow for her bed, like weighted heart shaped pillow. Or, try a weighted blanket for soothing comfort.
This is practical, especially if you want your sis to come visit you! Extra points if you fill it with toiletries!
Nail Polish Set
Your sis may not have time, or a place near her, to get her nails done. Make sure she's prepared with her own set of nail polishes so she can do her nails at anytime!
Yeah, she'll have a blanket on her bed, but give her something she can wrap around herself when watching Netflix on top of her bed.
Help your sis out for those times when the sun is shining so hard…or she just doesn't want to make eye contact with others.
There are so many comfortable matching sets that are perfect for your sister to wear around her dorm or even to class!
There's gonna be times your sis just doesn't want to carry a bag with her. Get her a phone case with a card holder so she just needs her phone and she's good!
Books on Adulting
Make her laugh by getting her funny books on adulting, since college is your first step to adulthood!
Or you can get her funny books about being a sister that's sure to make her laugh, too.
Your sis may just slept in an old tee and shorts at home, but if she has a roommate, she may want to sleep in actual PJs now. Get her a matching set, and get yourself one that matches her, too!
Let your sis play her jams in her dorm! Also make her a special playlist too that she can start playing when she misses home – or you.
Sometimes the best way to connect is a simple as a playlist of your favorite tunes.
Everyone should have a comfy, slouchy cardigan, right? Your sis can wrap yourself around it in her dorm or wear it to class.
College can be stressful. Give your sis something to help her relax and have some me time, like with a sheet mask set. These make a lovely gift!
OK this may seem awkward but it's so practical, especially if you know your sis has been wanting to splurge on a new product but can't on a college budget.
Board games are such a fun way to pass the time in college, so make sure your sis has one. Extra points if it was your favorite board game to play together as kids!
For the same reason as above! But with cards, she can play games on her own like solitaire, too. Card decks are a great option for someone who doesn't have enough space for a ton of games.
If your sister's like most, she'll always want her lips moisturized. Is there a lip gloss your sister loves most?
Get her a ton of lip products, this way she can seriously leave one in every bag and never be without.
One of the places to impress in college is at the gym, right? Get your sister looking real cute in a matching workout set.
Whether she's had her eye on a specific gym bag or you want to get her one that's personalized, a gym bag's a great gift.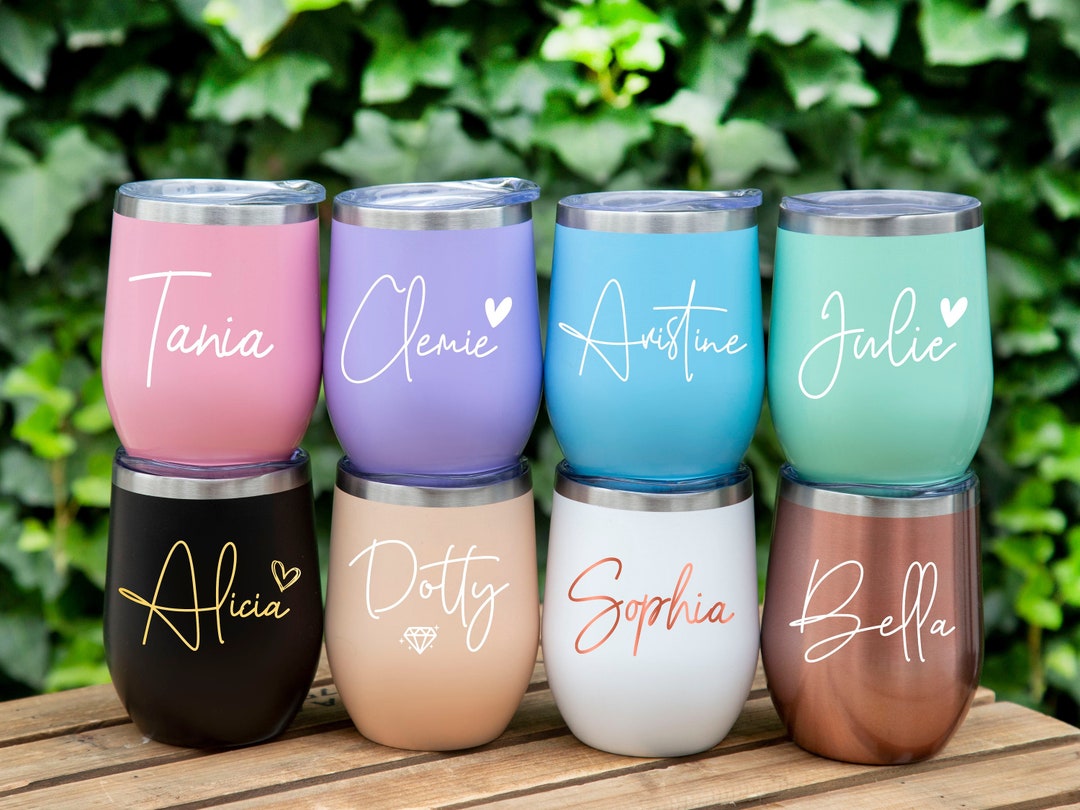 Wine Tumbler Personalized Tumbler Wine Cup With Lid Custom
Either get it with her name, or both of your names, so you can have matching ones.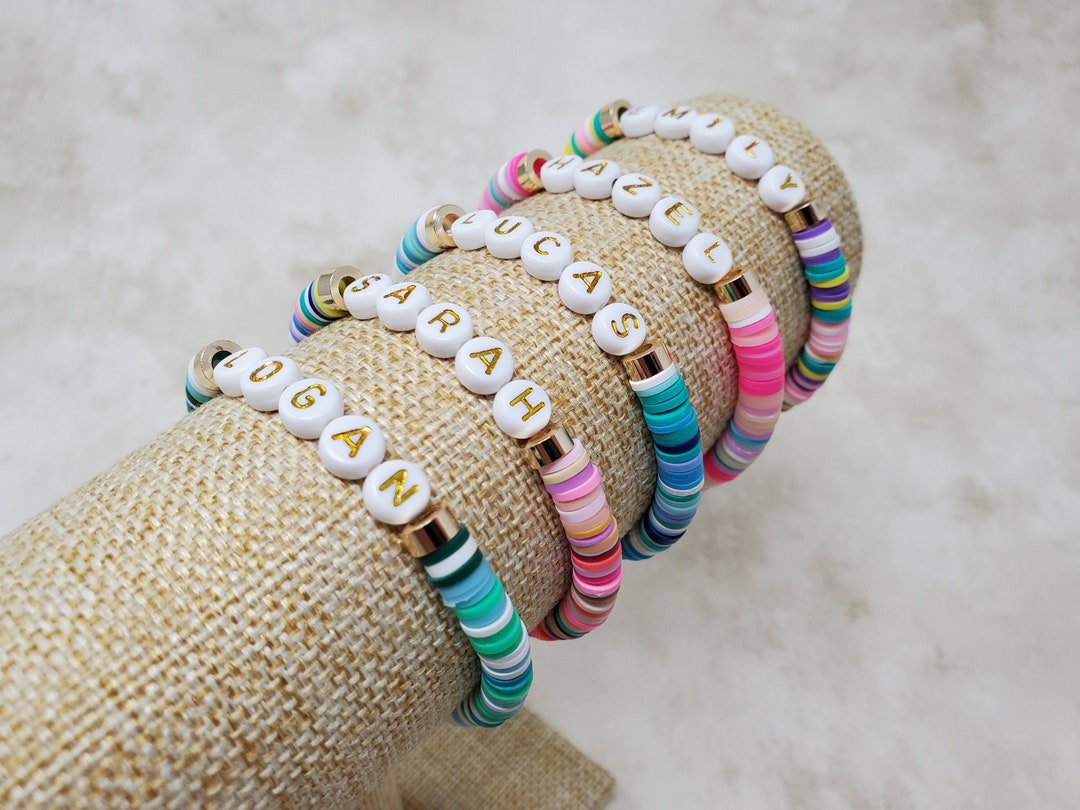 Personalized Name Custom Beaded Bracelet Beaded Bracelet
Remember those 90s bracelets where you spelt out your name or a word with beads? They're back! Get your sister one with her name or with "sisters" on it.
Or, make one with your own secret message that only your sis will understand.
She's gonna have dorm keys, right? Get her a personalized keychain that you'll have a matching set to.
Get your sis an indoor plant for her dorm and get yourself one too at the same time. Both of you can take care of your plants and see how they're both doing!
Give your sister a real life by getting her custom face socks with your face all over them! Or use a picture of the both of you on them! Talk about a limited edition item…
Perfect for when she takes her earrings off before bed, get her a cute trinket dish and personalize it with something like "always my sister, forever my friend."
Your sister's the best, so remind her that she is! There's plenty of card decks with affirmations on them that she can read to remind her that she's the bomb.
These are great for moments of self care.
If your sis is of age, and not on a dry campus, get her a membership to a wine club! She'll be the coolest kid on campus with that. This is the perfect birthday gift for her 21st birthday!
You know those super funny signs you see all over T.J. Maxx? Get her one about sisters!
Do you have a pet at home? Or did you two have a childhood pet you love? Get a portrait of them for your sis to have.
Order from Paige on Instagram!
A Streaming Membership
If you don't already have Netflix, Hulu, Disney+, Spotify, Apple Music, etc, get it for your sis! Plus, you'll have the info too 😉 A good gift is one that keeps on giving…
Are you and your sister both big readers? Get her a kindle and pre-load some of your fav books on it.
Or get her a book club membership where she gets a new book every month to read. You can get her an annual membership so she's never without a book to read!
College girls live in leggings. And the good news? They'll always be the perfect thing to gift because your sis really can never have too many pairs of leggings. Never!
A bunch of food delivery gift cards
The caf gets old real fast. Make sure your sis is set when it comes to eating with gift cards to DoorDash, GrubHub, Uber Eats, etc! These are especially helpful if your sister doesn't have a kitchen in her dorm or if she doesn't have much time to cook.
Yes, sisters coloring books do exists, like "How Sisters Swear" coloring book. It'll help relax her mind, give her a good laugh, and have her think of you!
If your sis is at school far away and will need to take a plane when she comes home, this is a practical gift that'll make her coming to visit you even easier.
Your sis can bring you to school with her in life-size, cut-out form! A great gift idea for sisters with a sense of humorfor sure.
Whether your sis wants to be an influencer, or just wants a better look while on Zoom or FaceTiming you, a ring light will serve the purpose. You can even get one with a tripod stand, too.
Neon lights are all the rage right now, so get your sister her name in lights for her dorm. Or get something that means a lot to both of you and get one too.
Get her an American doll that looks like her — or for extra fun — on that looks like you, and you can have the other one!

In Summary: Gift Ideas For College Sister
We hope gift guides filled with unique gift ideas like this one will help you find the perfect present for your sister in college!
About the Author
---