Traditional cards are out! Say hello to eco-friendly Christmas cards and Feliz Navidad your way to a more sustainable holiday season in 2023.
Delightful, nostalgic, and moody movies, delish family recipes, an alarming number of hot peppermint chocolate refills, and of course, sentimental or downright funny Christmas cards.
That's the not-so-secret holiday alchemy that still manages to delight us all — no matter if we are pushing 20, 50, or 80. But between plotting multiple secret Santa lists, frantically ordering and gift-wrapping aww-inducing presents, and rewatching Love Actually again, sometimes, our sustainability pledge takes the back seat.
Links in this post may be affiliate. Thank you for supporting this resource.
Why does sending eco friendly Christmas cards matter?
Along with opting for rolls upon rolls of single-use wrapping paper and Christmas decorations, every year in the United States, people send about 2.3 billion greeting cards. ⁠Regular paper cards, even though cute, are, more often than not, not recycled and end up in landfills. Let's just say that our holiday cheer may not be in favor of the planet.
So should we abandon the art of card-giving once and for all? Heck no, not when eco-friendly holiday cards are so easily found. The good news is that there are plenty of ways to share your merry Christmas wishes with everyone on your Christmas card list without adding to the 17.2 million tons of paper that gets dumped in landfills each year.
Why pick eco friendly Christmas cards?
Sustainable Christmas cards come with a slew of benefits. You probably already know that Christmas is the biggest card-sending holiday.
Fun fact: Werner Erhard of San Francisco set a world record for sending 62,824 Christmas cards in December 1975. However, the sad reality is that your cutesy gift tags, physical cards, and gift wraps contribute to the tremendous amount of waste we produce every year. In fact, paper accounts for 25 percent of waste in landfills.
But paper is biodegradable and recyclable, we hear you mumble in frustration. Yes, but not if it doesn't end up in the recycling bin. Plus, the traditional brightly colored, coated and treated paper of greeting cards are not even recyclable in the first place.
Additionally, 68 million trees are cut down each year to produce paper and paper products. What's even more surprising? Paper production requires twice the energy used to produce a plastic bag.
Now if you consider that the paper industry also requires 2,700 liters of water to make just 1 tonne of paper you'll quickly realize why eco-friendly Christmas cards are the new cool thing to opt for.
What should you look for in eco friendly Christmas cards?
We made a list of the best eco-friendly Christmas cards to help stay as far away from the basic greeting cards lining the grocery store checkout queue as possible, below. But before you start shopping for your happy holidays wishes, here are some key things to look out for when shopping for cards:
1) Look for FSC-certified and recycled card options
Sustainability is, of course, the biggest factor. Even though downright adorable, not all cards are made equal.
Aside from opting for recycled papers when possible, you should also look for FSC-certified paper cards. This basically means that the Forest Stewardship Council has inspected and agreed that the card is made of responsibly-sourced wood fiber.
2) Eco-friendly inks
The volatile organic compounds (VOCs) and heavy metals in regular ink can cause soil and even water pollution when cards are dumped in landfills. So even if a Christmas card is, indeed, eco-friendly, conventional ink is chock full of mineral-based oils with pigments containing metals so the card is still able to pollute the Earth.
Eco-inks, are vegetable and algae-based printing inks. Both options are sustainable and produce bright, high-quality images that are easily removed during paper recycling.
3) Choose Biodegradable paper/Seed paper
Seed paper cards are made from post-consumer waste embedded with wildflower seeds, herbs, or vegetable seeds. When you or your loved ones decide to plant the paper in a simple pot or in your at-home garden, the seeds will grow and flourish into plants — plantable cards that leave no waste behind, how cool is that?!
Biodegradable eco-friendly Christmas cards are made from plant materials and can be recycled up to 6 or 7 times.
4) Support brands that Give Back
Last but not least, have a look at the brand's values and mission. Do they go out of their way to give back with the card orders they receive? Are they currently supporting any causes? The information should be right there, on the website.
11 Best Eco Friendly Christmas Cards 2022
1) Paper Culture (Customizable with Photos)
At the top of our list, we have the brand with the most customizable options and sustainability impact.
Paper Culture aims to help everyone understand that without trees, the world would simply not survive and thus, they don't use new paper at all. Instead, they opt for 100% post-consumer recycled paper as well as sustainably grown and harvested bamboo. So rest assured that your photo cards, eco-friendly Christmas cards, wedding invitations, or anything in between, are as cute as they are ethical.
On top of that, the brand offsets its carbon emissions by planting trees. Thus far, they've managed to plant over 1 million trees which is one of the reasons why EPA recognized them as a Top 10 Climate Leader and certified them as a "Green Business".
There are hundreds of pre-made cards to choose from ranging from chic to bold and vibrant but you can also DIY your own style by choosing the design, the frame, and size. You can also put your own photo on your card and take advantage of their free designer assistance. The offer free shipping on orders of $125 or more.
2) Minted (Customizable with Photos)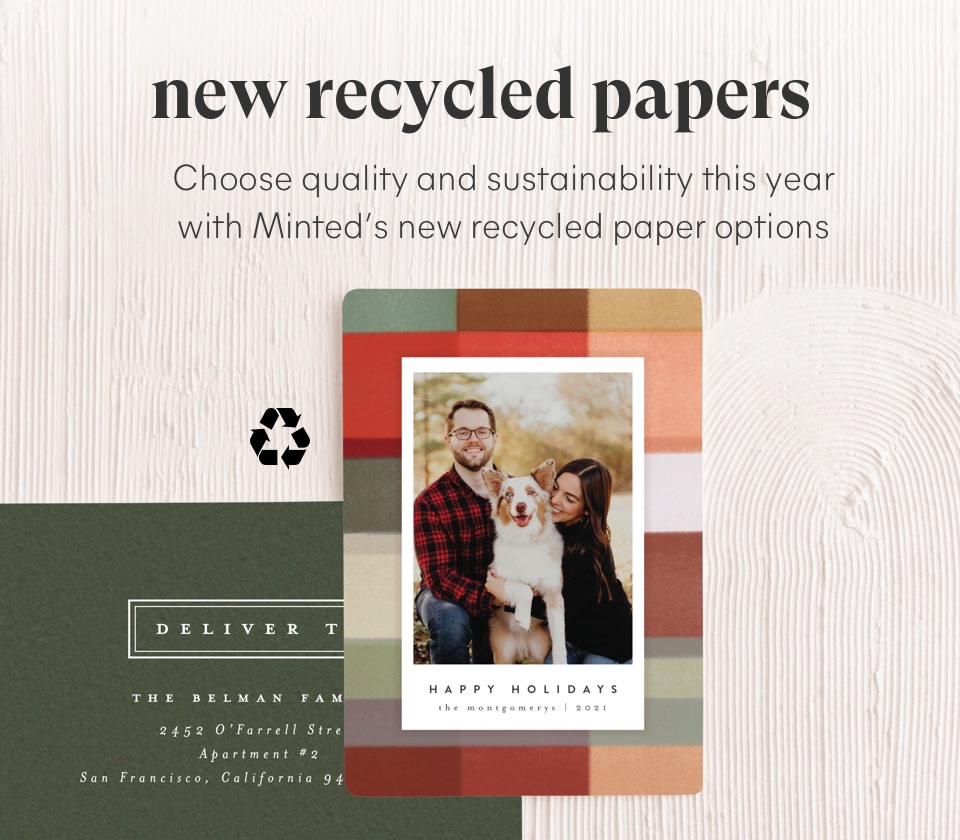 Minted offers a huge selection of eco-friendly holiday cards that will look fantastic under every Christmas tree. The options include Christmas, Hanukkah, Kwanzaa, and New Year wishes as well as business cards, save the dates and so many more. Once you set your mind on a design, you can then choose your favorite shape, size, foil, fold, and color.
As they mention, Minted's 100% post-consumer waste recycled paper is thick, smooth, matte-finished, and manufactured with wind power. Just opt for the "TripleThick™ Paper" option. The best part? Everything is designed by independent artists and the brand offers complementary custom envelopes and free recipient addressing with every order.
3) Greenvelope (Customizable, Digital)
Greenenvelope aims to educate people on the many benefits of swapping from traditional to digital cards. That's why they've created a huge collection of ready-to-email eco-friendly Christmas cards designed by various independent artists.
Of course, you can personalize each style to match your preferences, and when you are ready, simply add the recipient's email address, and voila! This way, you won't only save money (you can find options for less than $1) but you'll save the planet too. Whether you are celebrating the holidays or new years, you'll find something here.
4) Thoughtful Human (Not Customizable)
We absolutely love Thoughtful Human! The brand makes eco-friendly Christmas cards for every aesthetic using water-based inks on a seed paper card that is made from recycled materials.
As we mentioned previously, these cards can be planted to grow wildflowers — 6 different types to be exact. On top of that, all envelopes are made with 100% recycled kraft paper.
They do have a more artsy aesthetic that includes a slew of hand-drawn illustrations and lettering. So if you want to dazzle everyone with options that look suspiciously a lot like homemade cards, this one is for you.
Also, the brand donates 5% of their profits to "badass organizations" and has also partnered up with BetterHelp licensed therapists to offer one FREE month of therapy.
5) Botanical Paperworks (Customizable Text)
As the name suggests, Botanical Paperworks solely uses post-consumer recycled paper embedded with wildflower seeds to create utterly gif-table eco-friendly Christmas cards.
Their recycled paper comes directly from businesses and schools in their area, which basically means that they've helped divert over 10 tons of paper from landfills. Also, BP ensured that their seeds are approved by the United States Department of Agriculture (USDA).
You can freely design your own, special eco-friendly holiday cards or choose from their growing list of personalized cards. Either way, everything will be shipped to you in biodegradable corn plastic packaging.
6) Tree-Free Holiday Cards (Not Customizable)
Tree-free Christmas cards as equal part cute and sustainable! As you can probably tell, these cards are not made of paper.
The brand uses 100% post-consumer recycled paper and wheat straw envelopes made with solar energy and wind power.
As for their dizzying collection, the options are all in your favor. They carry everything from whimsical and cute to minimalistic and classic styles for every member of the family. On top of that Tree-Free is a Green-E Certified business which is a huge accomplishment.
7) Cute Root Co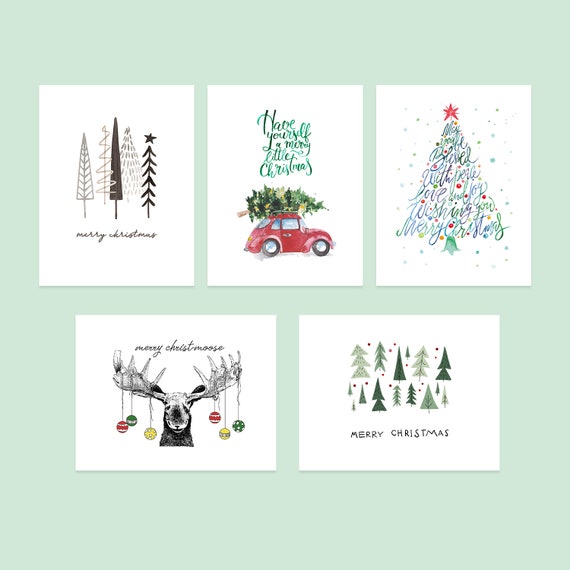 As you can probably tell, we have an affinity for plantable eco-friendly Christmas cards. Cute Root Co offers some splurge-worthy bundles to make each member of your family smile with excitement. Shopping on Etsy means you're supporting small business too.
Every handcrafted card is made from 100% post-consumer recycled paper and comes with a matching envelope. Just let everyone know that they can actually plant their holiday cards and, in about 3 or 4 days, the seeds will begin to sprout. Plus, aside from offsetting their carbon emissions, they also plant one tree for every order.
8) My Eco Designs (Not Customizable)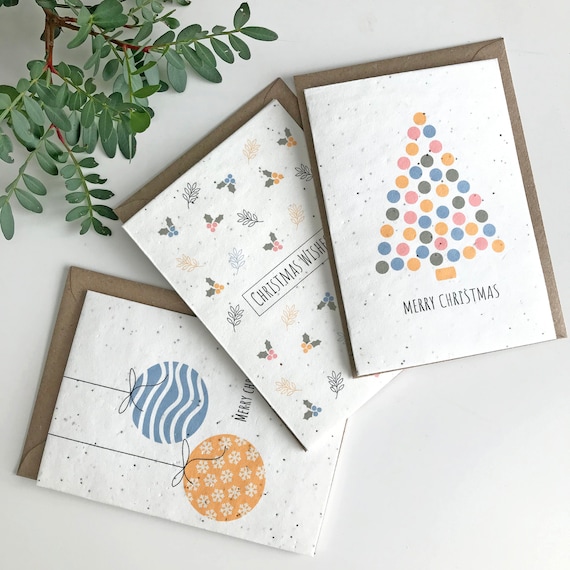 Sure, Etsy is the e-home of creativity, but when it comes to eco-friendly Christmas cards, the designers are absolutely killing it.
My Eco Designs offers fantastic 3-piece bundles with handmade plantable cards crafted from post-consumer waste paper to "keep happy our planet." Of course, single cards are also available.
Each item is embedded with wildflower seeds and crafted by hand so you know it's absolutely unique! The company also sells plantable business cards and wedding stationery for eco-conscious brides and entrepreneurs.
9) We Made Boutique (Not Customizable)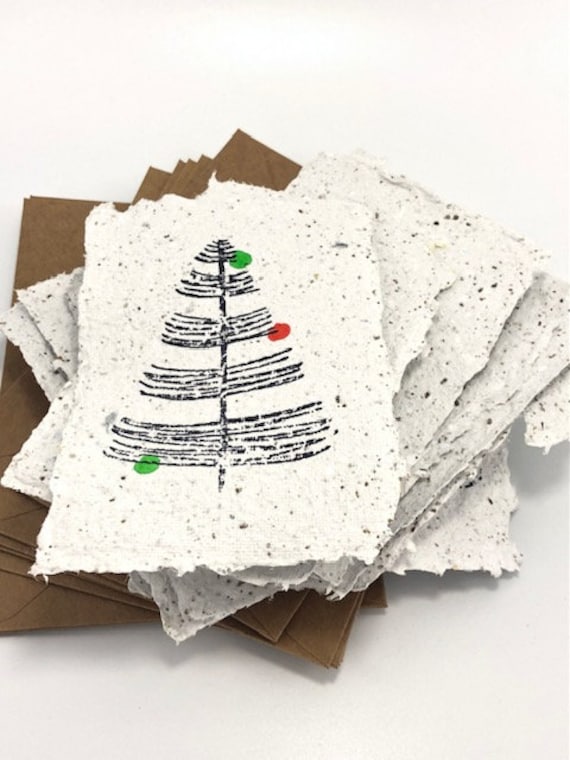 We Made Boutique — the not-your-basic zero waste shop with super affordable plantable seed paper holiday card bundles.
The handmade recycled seed paper designs come adorned with random stamped tree designs and are, of course, ready for planting.
The designer mentioned that your card can also attract pollinators like butterflies and hummingbirds due to the seeds which sound amazing! No matter if you want just a few cards of a hundred, all you have to do is pick the number.
10) Forever Fiances (Customizable Text, Logo)
While Forever Fiances is the digital home of over 700 personal, eco-friendly Christmas cards, they mostly specialize in crafting corporate greeting cards.
There are two options: plantable seeded paper or FSC-certified, recycled paper from 100% post-consumer materials. You can add your message, company logo, and so many more fun elements. The company is also Green-e certified and acid-free. On top of that, they donate 1% of their profit to nonprofit organizations to help fight climate change.
11) Green Field Paper Company (Customizable)
Are you looking for an option that's completely tree-free and created with junk mail only? This one is for you. The company offers the most unique cards with actual specks of the original junk mail on them! This gives a second life to paper that otherwise would end up in the landfill. They also carry many plantable cards as well embedded with wildflower seeds.
Now, if you want to spice things up a bit, opt for the Hemp Heritage collection which is made of 25% Hemp, and 75% post-consumer, acid-free paper. Last but not least, all of Green Field's cards are made in the United States, so no unnecessary shipments from overseas are involved.
In Summary: Best Eco Friendly Christmas Cards For The Holidays
Whether you want to dazzle your friends and family with a virtual card or prefer the old-school card-giving experience, there are so many eco-friendly Christmas cards to choose from.
While paper waste does not harm the environment as much as plastic, it still has a significant impact, so why not swap the regular store-bought cards with a sustainable option that's personal, skillfully designed, and beautiful? A study by Exeter University found that sending one card produces about 140 grams (0.3086472 pounds) of carbon dioxide, so why put an extra toll on the environment by opting for newly created materials and toxic inks?
Remember, by choosing recycled or digital cards, you get to reduce your carbon footprint, prevent air pollution, and save energy and water (not to mention money). Plus, the Christmas cards we're eyeing are too cute to pass up – just saying!
About the Author
---