The transition from high school to college can be an adjustment period. It's the first time most teenagers have been away from their family for an extended period of time.
On top of that you have the stress of classes, exams, social life, etc.. The point is, college life can be a lot sometimes, especially freshman year.
If you want to let your family member or loved one know that you're thinking of them, a great care package could be the answer.
Receiving a care package, especially unexpectedly, during a tough time can be an amazing pick me up for college students. In college, you're under a lot of stress. It's important to have a supportive team of people behind you so that you can focus on your studies and do your best work.
Sending a friend or family member a care package can be an incredible uplifting gesture. I used to think care packages were expensive or difficult to curate, but it turns out, they're not at all! The care packages on this list on quite affordable.
In today's post we're doing a deep dive into what care packages are, when's the best time to send them, and what are some of the best college care packages.
What Is a Care Package?
So you're wondering what a care package is? Let us explain!
Care packages are basically a box of goodies that you can send to your loved ones. The idea is that receiving it will make them feel loved and boost their mood.
You can buy/send pre-made care packages, or you can make your own. Both are great options!
And the best part is these make a great gift for college kids any time of the year! Speaking from experience college kids are always happy to receive a gift.
However, there are some times of the year that work best for this type of gift. We'll explore that in the next section.
When Should You Send a Care Package?
There are several different occasions, or situations, that would warrant being the perfect time for a college girl, or boy, to receive a care package. This doesn't mean that you can only bless the dorm room with this thoughtful gift anytime. These are just specific examples.
A few weeks after moving in: By this time the supplies and snacks they moved in with are most likely out, or running low. It's the perfect time to send a snack care package.
When they are homesick: Treat your homesick college student with a little encouragement from home. A box filled with some of their favorite local things, or a ready-made care package filled with self-care items would be great ideas here. A good time to do this is about halfway to fall or spring break. Let them know you're thinking of them with a surprise package.
For their birthday: If you can't be with them for their birthday, this would be a great way to send their birthday present. Whether it's a box full of small gifts, a gourmet gift basket, or something different, I'm sure they will appreciate the thoughtful gift.
When they are ill: Being sick in a college dorm is incredibly isolating. Something about knowing you can't be in your own home just makes everything worse, in my opinion. Send them some love through healthy care packages. That will help them get well and back to themselves. It's the next best thing to being at home. Some cough drops, medicines, ice packs, etc are great ideas to support your sick student.
During finals week: Your favorite student has worked hard all semester, and now it's crunch time. Studying for final exams takes up a lot of time. You can help out by sending a good luck box filled with their favorite snacks and supplies. Toss in some gift cards for coffee or to their favorite local restaurants or for Doordash – they will surely appreciate it!
Now that you have an idea of when to send your care package, it's time to choose one. Keep reading for seven of the best college care package ideas!
Links in this post may be affiliate. Thank you for supporting this resource.
The 7 Best Care Packages
There are several different types of care packages. From snack boxes to boxes filled with beauty products, and everything in between, you've got plenty of options.
I have included a variety of them in this post as well to give you an idea of what you can purchase. Here are seven of the best care packages:
Birthday King/Queen for a Day
Celebrate your loved one like the queen/king they are. This care package is packed with gourmet snacks ( like Oh Sugar Quart Jar of Chocolate Chip Cookies), a confetti cannon, personalized card, and of course an inflatable crown.
This care packages is perfect for a birthday celebration from afar! If you can't spend time together in person, this gift box will be enjoyed, for sure! The treats are lovely and can be shared with your student's friends.
There are gluten-free, nut-free, and vegan box options! This makes it more accessible for those with food sensitivities too. You can purchase this box from Campus Cube for $49.95, plus shipping.
Sending You Love Care Package
The perfect answer for anyone that needs cheering up. This Sending You Love Care Package from Hugabox is like a long-distance hug from home.
In this box you'll find a stuffed animal, a mug, hot cocoa mix, and a bag of chocolate kisses. These are the perfect sweet "thinking of you" gifts for someone going through a tough time.
You can purchase it for $34 – a very reasonable price for a care package.
And good news! Another great thing about this care package is that when you buy one a portion of the sale goes to support Sarcoma Cancer Research in hospitals across the US. We love brands that give back.
Mini Sick Day Care Package
If you're wanting to help someone feel better, this care package is the way to go. The Mini Sick Day care package from Spoonful of Comfort has everything they need to stay cozy and fight off the germs.
This box includes soothing tea, raw honey, cozy socks, cough drops, and even a half dozen cookies, among other items. You can even add on items like a headache essential oil roller, queasy drops, and more cozy socks.
I would have loved to receive this box when I was fighting a cold in college! It has the perfect essentials you need plus feels a little bit like your loved one is loving on you, even from afar.
You can buy this care package for $49.99 (doesn't include add-ons).
Build A Box
This box is a happy medium between a premade care package and a homemade one.
The Build A Box from the Happy Box Store allows you to choose what items go in your box from their list of products. They have different filters like category, occasion, price, type of business, etc..
With those advanced filters you are sure to find the exact kind of products you want to send your college student.
Final Exams Gift Box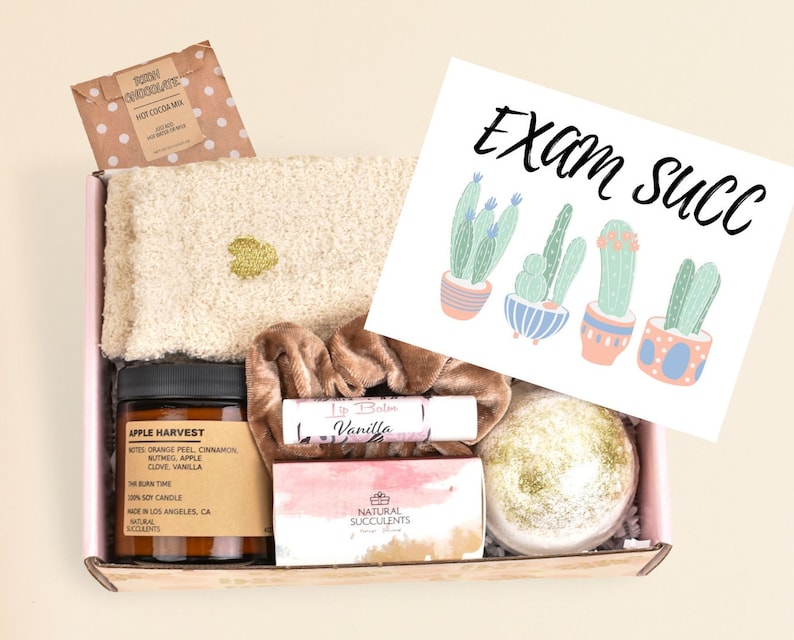 FINAL EXAMS Gift Box Exam Care Package Gift for Student
Finals week is stressful. If your college student is feeling overwhelmed, this care package will remind them to take some time for themselves.
The Final Exams Gift Box from Natural Succulents includes all they need to do that. Some of the items in the box are a soy candle, a bath bomb, lip balm, and more.
You're also able to add a few add-on items as well. You can buy it on Etsy starting at $32.03.
College Care Package from Hugs From Home Co.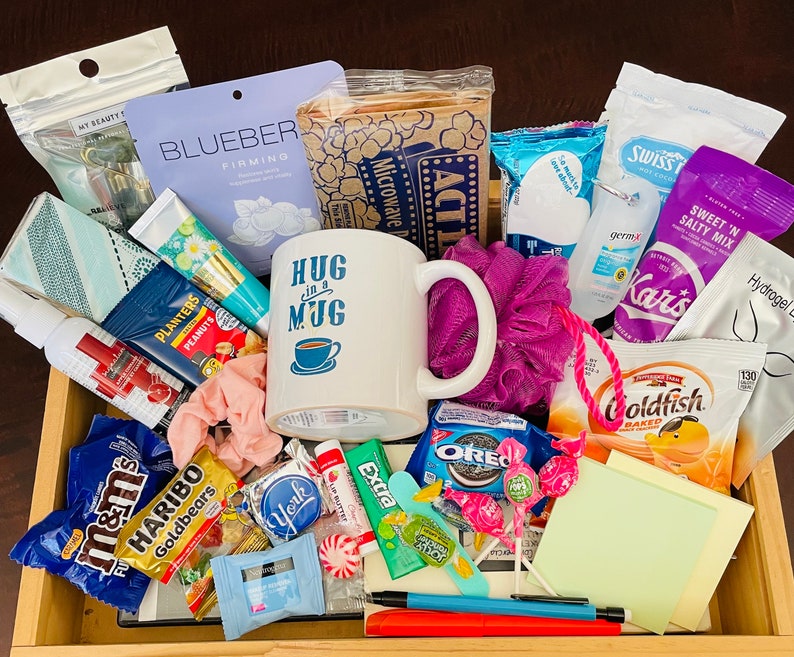 College Care Package/gift Basket for Girl
If you are looking for a care package that has a little of everything, this would be the one. It's jam packed with self-care items, school supplies, and snacks.
This College Care Package from Hugs From Home Co. would be a perfect package to send "just because" or maybe a little while after the semester starts. You can purchase it on Etsy for $37.99.
Thinking of You – Succulent Gift Box – Missing You – Friendship Gift Box – Care Package from Sweet Basil Co.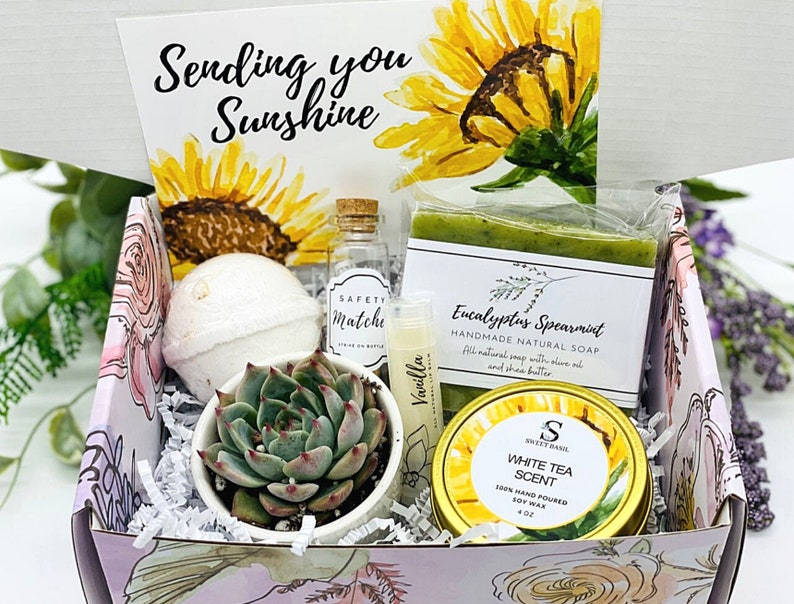 Thinking of You Succulent Gift Box Missing You
This is a great gift to send to your homesick college student. The Thinking of You Care Package from Sweet Basil Co. is sure to brighten their day when they see all the self-care goodies inside.
You get to choose the soap and bath bomb scent. In addition to those items there is a succulent, a candle, and more.It's on Etsy for $34.40.
How To Create Your Own Care Package
So you've seen a couple of options but you still haven't seen one that has stuck out to you? Another option you could try is to try your hand at homemade college care packages.
These are not only fun to make, they are more personal.I'm sharing some ideas to get you started in this next section.
Homemade care packages are a great idea to send to your student. You'll be able to fill it with things that you know they'll enjoy, and you can choose how much you want to spend. There are some things you want to consider before you start shopping for your care package.
How much do you want to spend?
Is there a certain theme you want to stick to (holiday, color, type of products, etc.)
Has your loved one expressed interest/need in any particular items?
Now that you have a plan figured out, it's time to start filling the box. Here are some examples of items you can include in a care package.
Food/Drinks: tea, soda,instant coffee, healthy snacks, easy meals, junk food
School Supplies: pens, notebooks, pencils, sticky notes
Dorm Supplies: laundry detergent, dryer sheets, air freshener
Health/Hygiene Items: cough drops, cold medicine, hand sanitizer, toothpaste, body wash
Fun Items: adult coloring book, puzzle, polaroid camera, board game
Miscellaneous Items: apparel, candle, fuzzy socks
Gift cards: Send them gift cards for food or to their favorite store for a bit of retail therapy
Sometimes the best college care packages are the homemade ones. However, if you'd rather purchase a premade one, I hope you found some good options in this post.
If you did, which one will you be sending out? Or which one do you hope to get? Let me know in the comments.
About the Author
---