First of all if you're reading this post, CONGRATULATIONS! You're probably reading it because you are getting married soon!! SO exciting!
As a 2023 bride, I get it. There are so many things we need to do and need to think of before our wedding day– and a lot of these things are things our mothers didn't have to think about when they were getting married.
I brought up bridesmaids gifts and outfits for the getting-ready photos to my mother and she was so confused by getting-ready outfits. The good news is that we live in the world of the internet, so I quickly took to Google to see what I could find.
Sure, robes are the go to, classic option, when it comes to getting ready attire for your bridesmaids. But there are so many other options out there now, like pajamas. And let's be honest – you really can never have too many pairs of pajamas, right?
Getting your bridal party pajamas is getting them something practical, a gift that they will definitely use again.
Plus, by gifting your bridesmaids pajamas (or yes, a robe too) is a gift to yourself in a way. Why? Because they'll be wearing them while getting ready on the wedding morning, which means all of your getting ready pics will have them looking uniformed, and beautiful!
With so many options out there, we've done the hard work for you and rounded up the fifteen best bridesmaids pajamas we were able to find. There's something for every taste on this list!
Whichever one you end up choosing, don't forget to buy yourself matching bridal pajamas too in white! And also make sure to tell your photographer you want group pics all together in your matching pajama sets.
This post may contain affiliate links. If you make a purchase, GenTwenty may receive a commission at no additional cost to you. Thank you for supporting this resource.
15 Best Bridesmaid Pajamas
Personalized Pajama Sets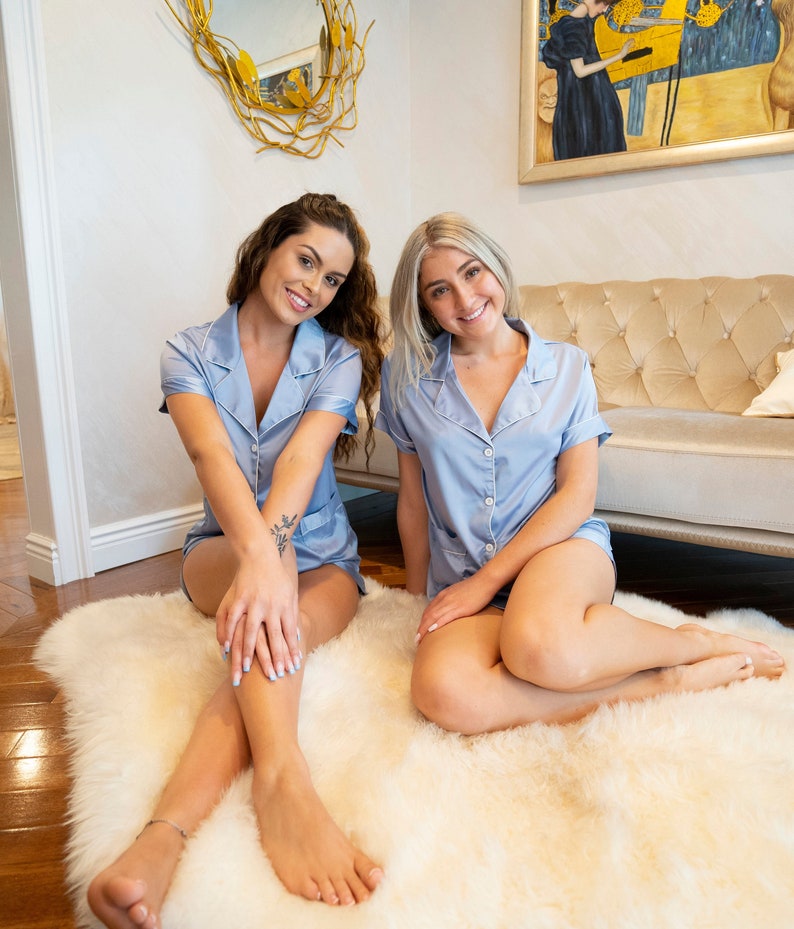 First, pick your favorite color, something trendy from popular colors, the color of the bridesmaid dresses you chose, or a print that makes you happy.
Then get it personalized with your bridesmaid's name or monogram on it to make it an extra special gift.
Use somewhere local or support small businesses on Etsy to get your custom bridesmaid pajamas. These are the perfect gift for bachelorette parties too if you're not interested in a big to-do the morning of your wedding.
Satin Pajama Set
Probably the most common choice of all bridesmaid pjs, and for good reason! Satin pajamas will look classy, high-quality, and will give your photos a nice little shine.
Plus, your bridesmaids will definitely wear them again. Totally up to you if you want this to be shorts, long pants, a button down, a cami, etc.
There really is every option! You can also find matching options for the flower girl and mother of the bride.
"Bride's Squad" pajama set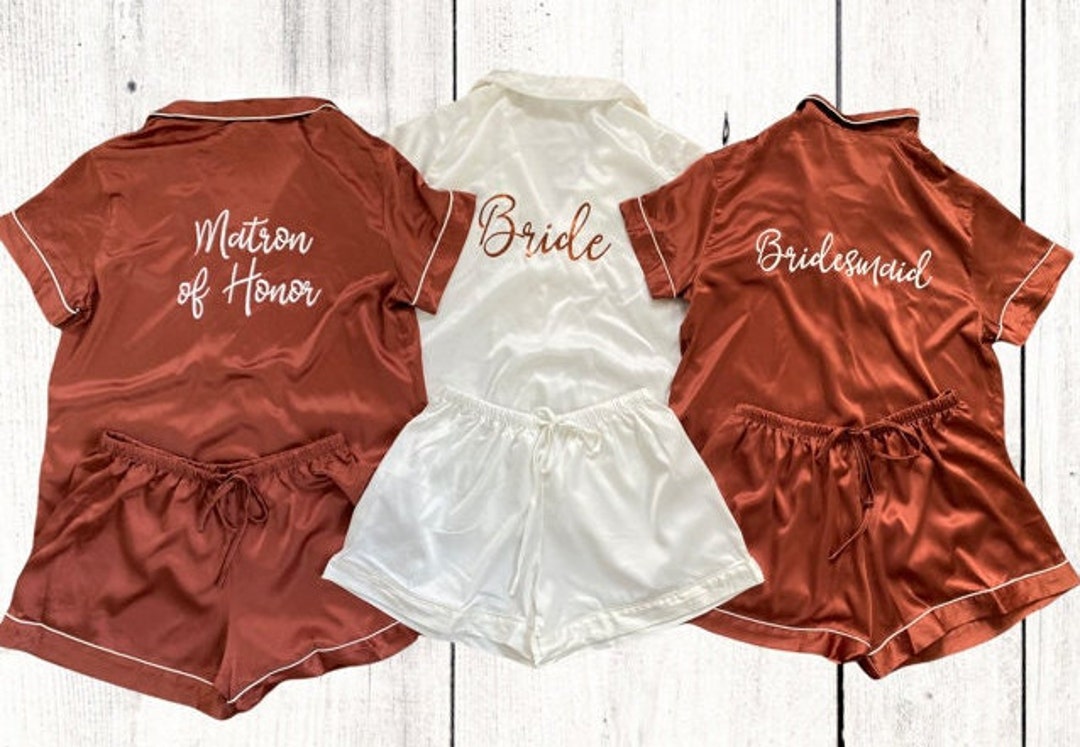 "Bride squad," "bride tribe," or whatever fun nickname your bridesmaids have named themselves, show it off!
There's tons of matching sets out there that has phrases like this embroidered on the back. Make sure to tell your photographer to get a back shot of all of you for a fun picture!
Romper Pajamas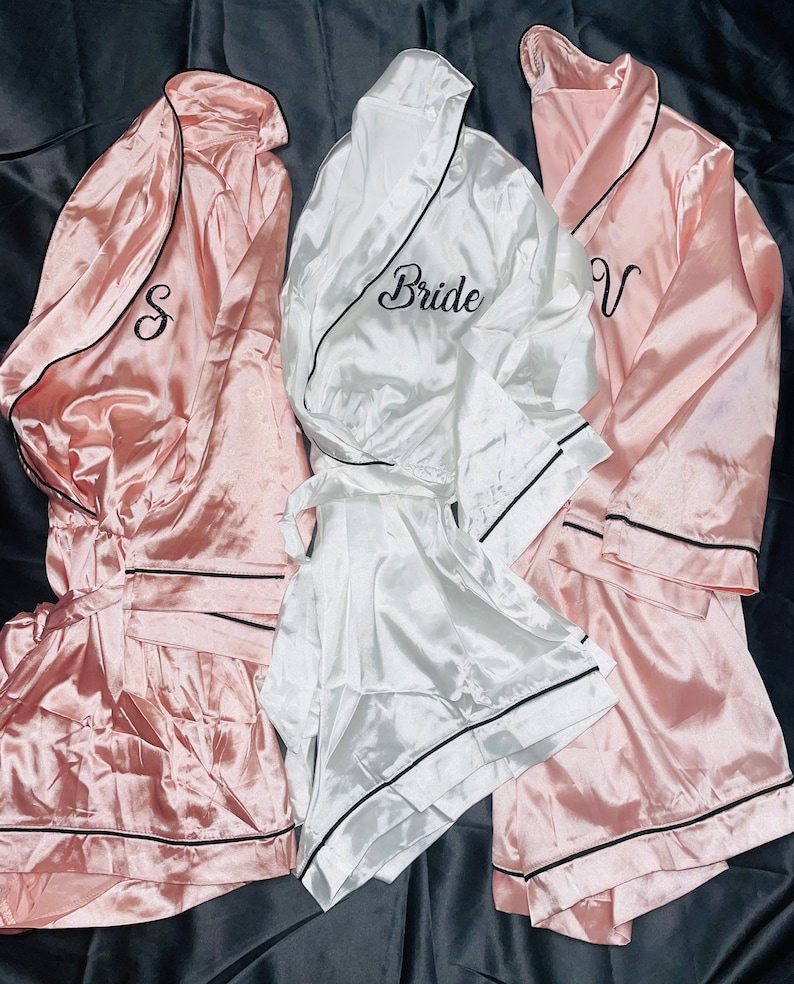 Looking for something that will still look great but is super unique?
Instead of traditional pajama sets, opt for a trendy romper. Up to you if you want it a long or shortie set!
Floral Pajama Set
You can have a pattern on your pajama sets!
They don't need to be plain. If you want to still be classic, opt for floral pajamas.
Florals just scream "wedding," right?!
Patterned Pajama Sets
If you want something a bit louder than a subdue floral, choose your favorite pattern.
Do you love leopard print?
Go for it. Who's stopping you?!
You can really use this to showcase your personality.
Scalloped Pajama Sets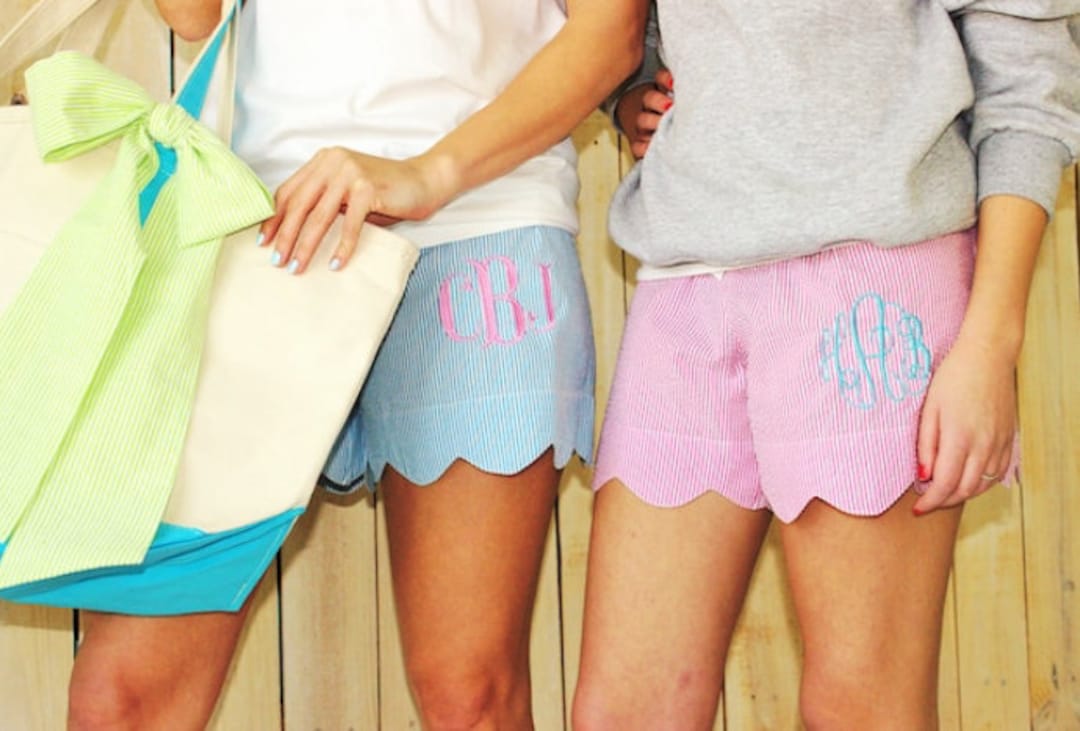 Seersucker Shorts Monogrammed Shorts Womens Monogram Shorts
from:
Etsy
If you're choosing a pajama set that have a short sleeve and shorts, make things even more elegant, and unique, by getting a pair that has a scalloped trim bottom.
Up to you whether you want the pretty scallop trim on the bottom of the pajama shorts, the top, or both!
Oversized Pajama Shirts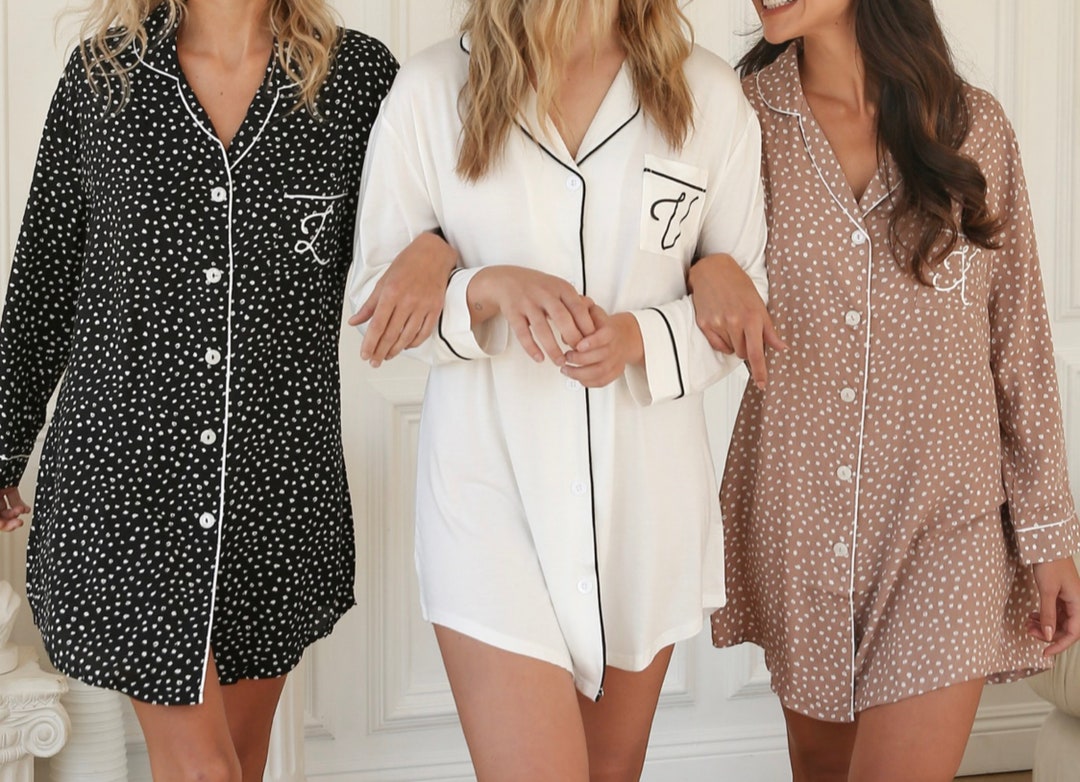 Bridesmaid Sleep Shirts Women Monogram PJ Dress Perfect Gift
Have a no pants party! You can still be classy – and super fun – by forgetting the pants.
Get your girls an oversized, button-down shirt to wear. Take things up a notch by getting their initial embroidered on the front pocket!
Beach-Themed Pajamas
Perfect if you're having a destination wedding or a wedding on the beach!
Get your bridesmaids a pajama set that's totally beach themed or covered in something tropical, like palm trees.
Extra points if they're of the destination you're getting married in!
Mismatched Pajamas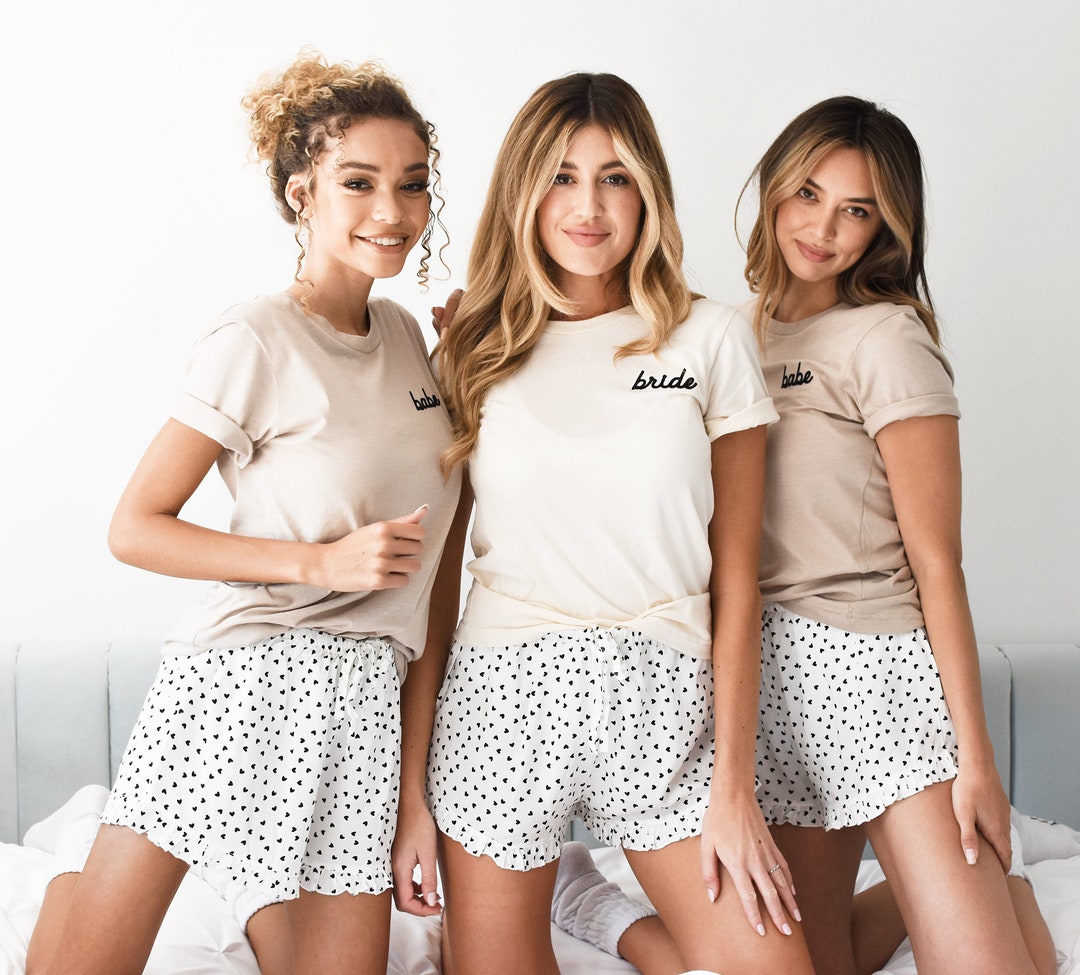 Bride & Bridesmaid Pajama Sets Bridesmaid Shorts Set Bride
Not for the matchy-matchy? You don't have to be! Get some mismatched pajamas that'll still go together in pictures as a great way to find your favorite styles.
This can be done with a colors of the rainbow type of look, or getting pajamas with the same base print but in different colors.
Flannel Pajama Sets
If you're a fall or winter bride, bring the season into your home with a long sleeve top and cozy fabric! Get your bridesmaids flannel pajamas to wear. It can be a matching flannel button-down tope with flannel bottoms.
Or you can just opt for the flannel bottoms and get your bridesmaids a white tee shirt to wear with it. You could get a little customization on the white tee, or a monogram on the flannel shirt, too!
Waffle Knit Pajama Sets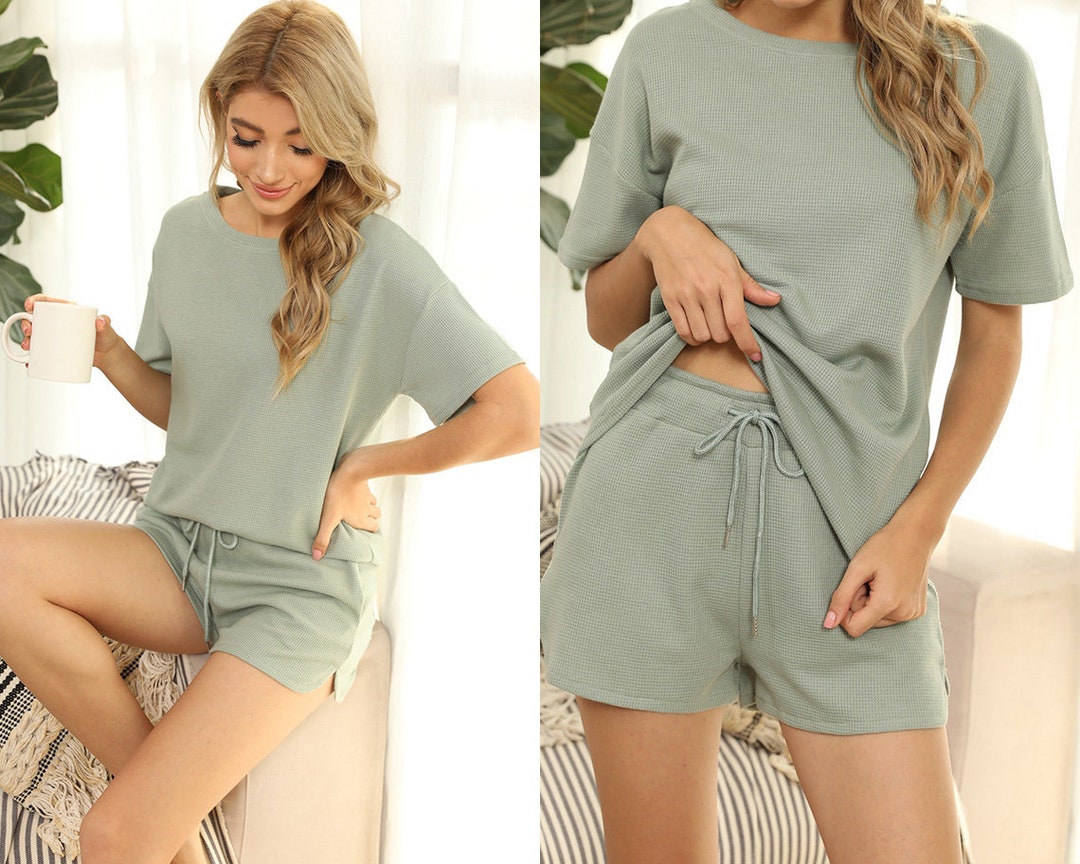 Woman Minimalist Pajamas Set Waffle Knit Bridesmaid Pajamas
You can't go on Insta or TikTok without seeing at least one waffle knit matching set, right?
If you want to be super on trend and give your bridesmaids something they'll want to wear again, opt for a waffle knit pajama set.
Cami Two-Piece Pajama Set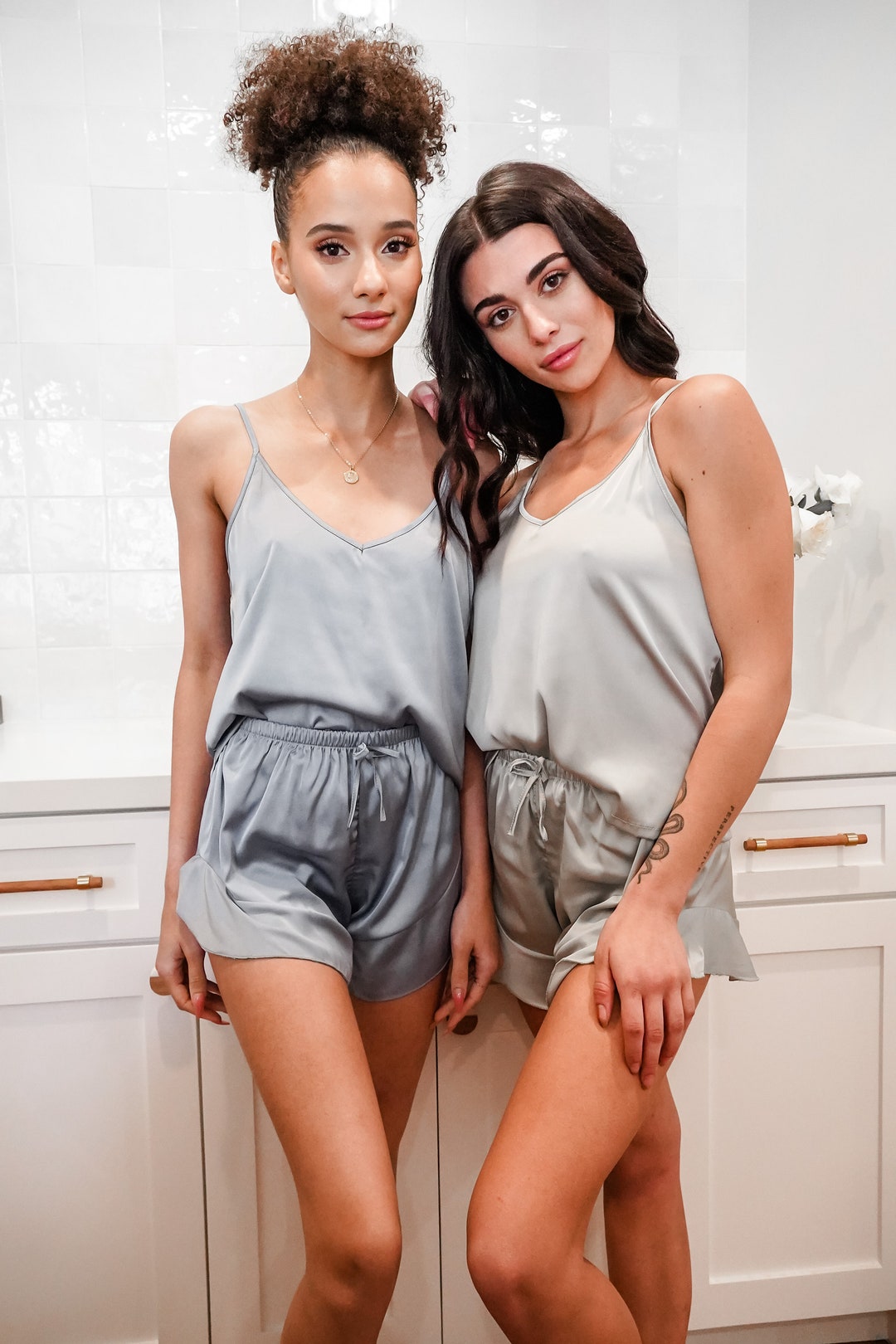 Bridesmaid Bridal Party Pajamas Camisole Set Bridesmaid
If you don't want your bridesmaids in button downs, go cami instead! Camis are also a great option as they are easy to avoid any makeup or hair mess-ups when you're taking off the bridal party pjs.
If you can, find one that allows your bridesmaids to adjust the straps too, so you don't even need to worry about having falling straps annoying your bridesmaids or in any of your pictures!
Slip Dresses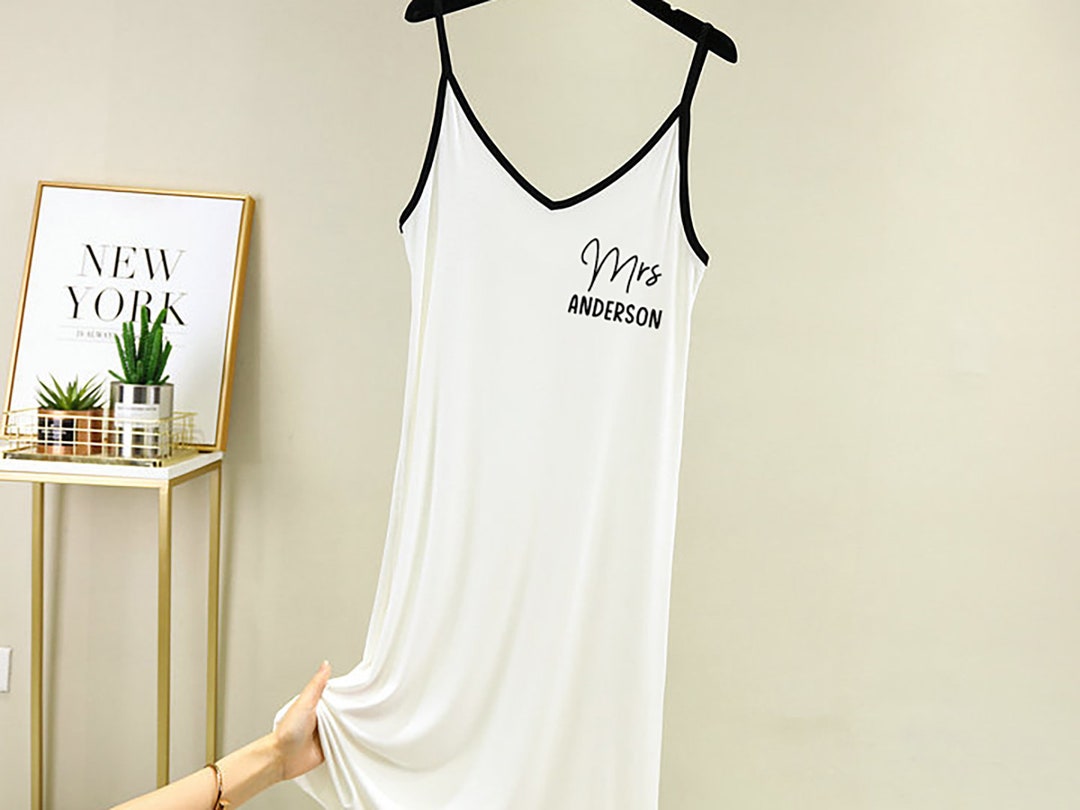 Pesonalised Modal Slip Dress Bridesmaids Pajamas Women's
In case you haven't heard, slip dresses are back in! It's also a fun option if you and your bridesmaids were totally '90s kids and want to relive that era.
Look for slip dresses that have lace trimmed detail, a V-neckline, and a satin silk feel.
A Pajama Kit with a Robe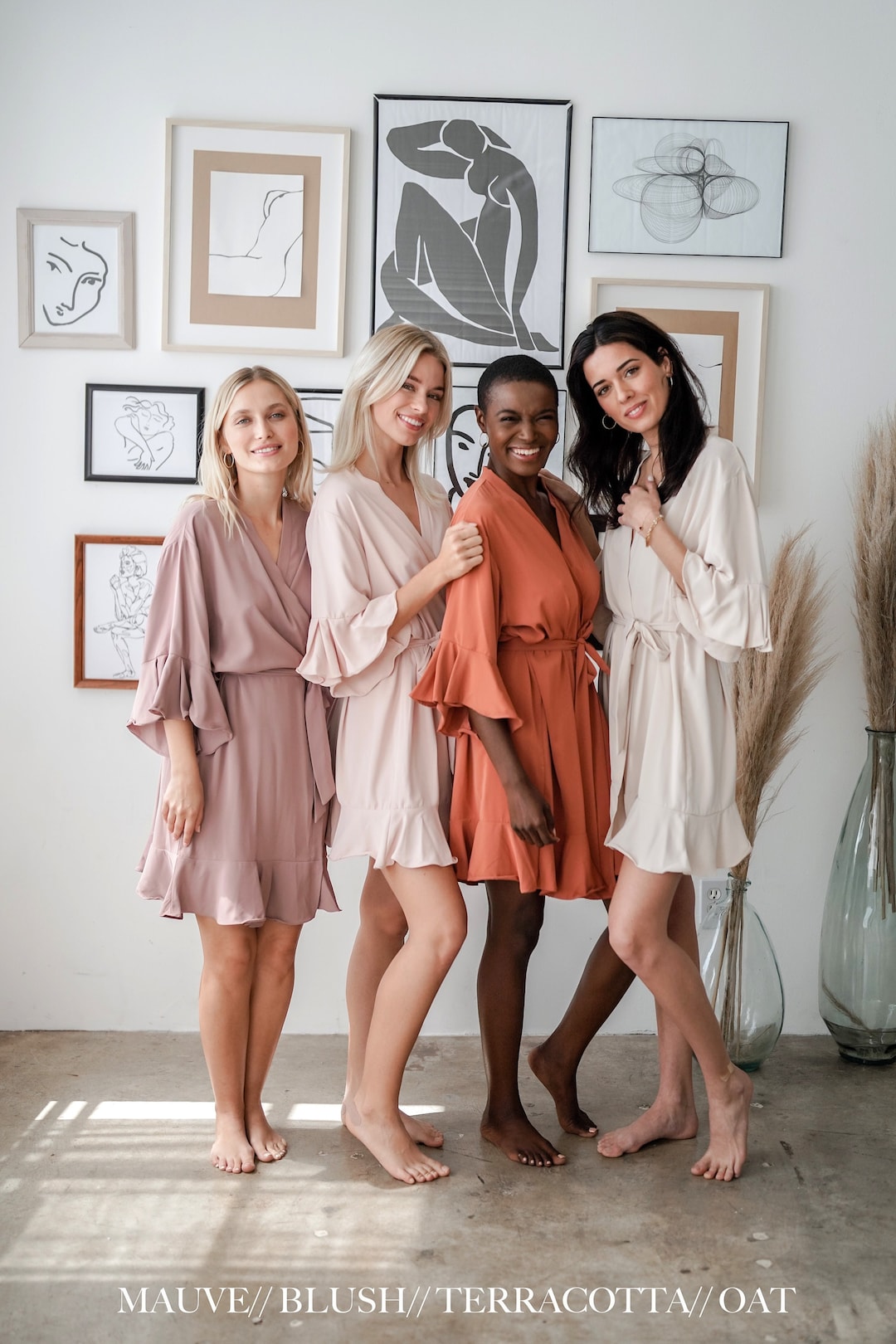 Bridesmaids Robes// Bridesmaid Gifts// Personalized Bridesmaid
If you still want a robe, but not just a robe, look for a "pajama kit" that includes both the matching two-piece set and a robe that goes with it. These are a great alternative so that you get the best of both worlds.
Matching outfits are not just for the bachelorette party! We hope you find the perfect bridesmaid pj sets with this list! Getting ready outfits make the perfect addition to an already exciting morning of the wedding!
In Summary: Best Bridesmaid Pajamas
The best bridesmaid pajamas are truly what fits your style and wedding theme! Consider if you're taking pictures in the pajamas or if they have a purpose beyond that.
Coordinated pajamas are a fun touch to your wedding day and a great way to make your bridesmaids feel appreciated and special. Happy wedding day!
About the Author
---